Online Target Marketing, The key factor if your Moving or Selling a Home in today's Real Estate Market!  Choosing a Home.
In 2014 William E Wood / Howard Hanna added an additional marketing tool to increase Home Sales in Hampton Roads. The Money Back Guarantee  Ask Don Maclary
Every home has a niche buyer searching for a specific quality in a home, Ex: Homes with pools, Oceanfront Homes, Homes with Deep Water Docks, Acreage for Horses, Granite and Stainless Kitchen, Fixer Upper. What you as a potential buyer or seller needs to know is that the Choose a Home Team works hard to provide you with the best real estate website and the best service in the Hampton Roads Area. If you do not find the information your are looking for by all means call and get the information and give us a suggestion which may help us to make an even better website for real estate.
The ability to advertise a home properly so the right potential buyer can easily find it is a Realtor's skill.
Advertising a $600,000.00 home to a target group that may earn 25k a year or a $75,000.00 home to a target group with 6 figure incomes is not how to successfully sell a home in today's market. When a home has a nice pool advertising to people who follow USA Swimming or if the home has a deep water dock advertising to people interested in boating and fishing. These are the type skills needed  for Real Estate Sales of all price ranges today. From the $50K fixer upper to the 2 Million Dollar Oceanfront Luxury Property.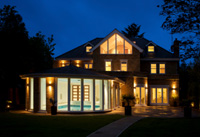 In today's market, optimal internet presence is vital to selling your property from the 50K Condo to Luxury Waterfront Properties. Don Maclary with William E Wood and Associates Realtors® specializes in Online Target Marketing and Hampton Roads real estate listings. He puts your home in front of the right buyers resulting in a faster sale. One of the biggest expenses in selling a home is the cost of the home sitting empty as the clock ticks on with the mortgage payments, taxes and insurance premiums. Below are just a few samples of markets that Don uses to sell his clients' property.
Buyers also benefit from Online Target Marketing. This technology makes it easier than ever to find the right property to suit your needs, especially investors looking for a great deal to build their portfolio. Understanding a clients needs is a key to using real estate search tools, Key words can help sift through huge numbers of properties narrowing in on ones that fit the criteria of the buyer.
Whether you are selling or buying for yourself or for investment purposes, put the power of the internet and technology behind you to help find the right type property to fit your needs.
Online Target Marketing:
First Time Home Buyers:
With sources for the right loans and connections to get started, Don works with many first time home buyers and is able to put your property in front of these eager buyers. Most are young and the internet is a vital part of their lives, so Online Target Marketing is important part of moving.
Baby Boomers:
With equity in the bank, baby boomers are now ready to retire downsizing to smaller homes so they can enjoy a low-maintenance lifestyle. If your home fits this description, Don can make your desire to downsize a reality. Baby boomers also dread the idea of a stressful move. Set aside an hour to discuss options on how to accomplish a move with minimal stress.
Growing Family:
Growing families are upgrading for more room and investing in their families future. Don will use Online Target Marketing to make sure the right group of people see your home!
Military:
With Don's resources, relocating has never been an easier transition. Thousands of military personal move in and out of Hampton Roads buying and selling homes. Online Target Marketing will provide the necessary exposure for a quicker sale. You can't be effective by just listing a home on the mls system and then just sit back. There are many ways to draw attention to a property today but none of them run on auto pilot, it takes skill to get the right person to se a property.
High End / Waterfront Homes:
Homes for sale costing $500K+ need extra special attention especially waterfront like Virginia Beach oceanfront properties. Don will use Online Target Marketing to connect your high end property with professionals who have an adequate budget and the desire to make the purchase. Many of these potential buyers come from other areas around the country so local advertising alone is not likely to draw top dollar for your home.
Contact

 Don today to find out how he can represent YOU the seller
and use Online Target Marketing to get the process moving.
Serving Buyers and Sellers in all areas of Hampton Roads, Virginia Beach Oceanfront, Oceana Naval Air Station, Norfolk Naval Station, Suffolk, Chesapeake and all other Local Cities.
Don always works hard to get the best deal for his clients, from the $1,000,000 + transaction to the first time home buyer. He is dedicated to serving their interests and ensuring the process is smooth for them.
~ Ryan, Real Estate Pro