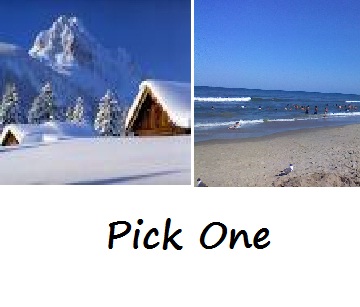 Virginia Beach is considered by many to be one of the best vacation destinations
in the country, definitely one of the best on the east coast.  Also, with so
much to offer and with great housing prices, it is considered to be a very
desirable retirement destination, especially for our  neighbors up north
trying to escape the bitter cold and snowy winters.  Sure, we get an occasional
dusting of snow and an infrequent few inches of snow, but our winters are
considered very mild to many. I like to think of it like only having Three seasons.
Low home prices and rock bottom interest
rates make today a perfect time to invest in that vacation home or retirement
home you've always dreamed of and planned for.    If your retirement is still a
few years away, buy now while conditions are favorable, and rent the home out
until you are ready to move to the area to retire.  Let the tenant make your
mortgage payment until you are ready to move to your dream retirement
destination.  You can even in some locations rent it out seasonally, leaving yourself a few weeks
or weekends a year to enjoy it as a vacation getaway home in beautiful Virginia
Beach. Boasting 40 blocks of oceanfront boardwalk and many miles of bike trails.
Enjoy golfing, kayaking on the back bay, swimming at the beach,
surfing, stand-up paddle boarding, and fishing in the many waterways.  There are
big name music headliners holding concerts here each year many right on the beach and free, art galleries and art
shows galore, and a wide array of top rated restaurants as well as fabulous mom
and pop eateries to suit every taste and budget.
Plan ahead for your
retirement in Virginia Beach.  You will love it here!  Do something NOW that
your future self will thank you for!
Search for homes and local lenders.  Let's get started!
Enjoy life Virginia Beach oceanfront style!
By Don Maclary
William E Wood Associate
Homes for Sale
Don was an incredible help to our family when buying our first home. He was very patient while helping us through every step of the buying process. I would definitely recommend Don Maclary for your house-buying/selling needs. He helped us understand the process and what our needs really were.
~ Amber, Real Estate Buyer
If you enjoyed this article, Get email updates (It's Free)